Gaskets made to measure.
The original equipment quality of genuine Elring gaskets guarantees excellent results when repairing racing car, tuned and classic car engines.
In addition to our standard metal-soft material cylinder-head gaskets, we can also produce sophisticated customised metal-layer cylinder-head gaskets for high performance to suit particular requirements. This also includes specialty gaskets for water pumps, intake and exhaust systems for example. Soft material and metal-soft material are primarily used for such applications.
These tailor-made high-performance gaskets naturally satisfy the particular requirements involved:
Individually adapted heights and contours
Different cylinder bore diameters
Reinforced combustion chamber borders, cutting and toothed rings
Silicone coatings for use with water and oil
I am looking forward to your request!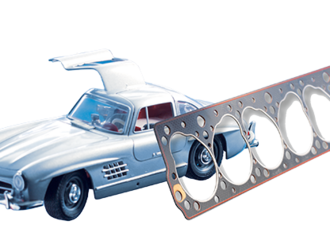 Get in direct contact with us here.
Yes, Elring has a department for prototype constructions and special gaskets. Please contact us here to minimize errors.
We can manufacture custom products based on drawings, used part samples and components. After a initial contact a non-binding quotation will be provided, which can be followed by placing of an order and sending of samples. Our experts can be reached here.
The exact price isn't defined in general – this depends on the work involved, the technical design and the size. The pricing for FW gaskets starts at EUR 50 per combustion chamber, but a minimum of three gaskets must be purchased. The manufacturing time is six weeks on average.