Maintaining a tight seal – whatever happens.
Regardless of what you are faced with, our high-performance compounds are engineered to provide an ultra-tight seal. Whether car, commercial vehicle, motorcycle, or vintage car (or motor racing and water sports), Elring offers an extensive range of products for professional component sealing – used millions of times around the globe. These high-performance sealing compounds have proven their worth in professional and do-it-yourself applications.
Are you unsure as to which sealing compound is the best choice for your area of application? You've come to the right place. A few steps will take you directly to the sealing compound best suited to your field of application.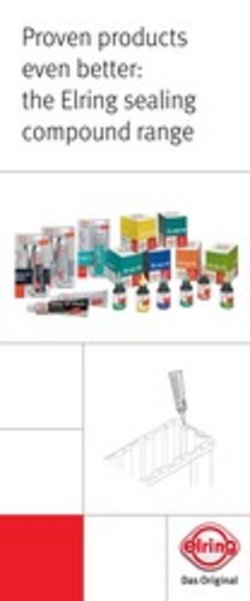 Proven products even better: the Elring sealant range [pdf]
Language: English
Mediatype: Brochures & flyers
Manufacturer: Alfa Romeo, Audi, BMW, Citroën, DAF, Dacia, Daewoo, Daihatsu, Deutz, Ducati, Fiat, Ford, Freightliner, Honda, Hyundai, IHC, Iveco, Jeep, Kia, Lada, Lancia, Land Rover, MAN, Mazda, Mercedes-Benz, Mini, Mitsubishi, Nissan, Opel, Peugeot, Porsche, RVI, Renault, Rover, Saab, Scania, Seat, Škoda, Smart, Ssangyong, Subaru, Suzuki, Toyota, Vauxhall, Volkswagen, Volvo
Product group: Sealants

Download
Anaerobic sealants are used on a metal/metal surface, e.g. for metal sealing flanges, on engine housings with integrated internal moving parts (camshafts/ water pumps/ gearbox). The installation point consists of two metal surfaces and absence of air (no access to the ambient air). Under these conditions, the anaerobic reaction and hardening of the sealant begins. All other technical properties can be found in the technical data sheet.
For sealing in the field of fuel supply, we would recommend using a solid seal. Although Curil T2 and El-Liq 73 and El-Liq 74 are fuel resistant, our experience has shown that better sealing results are achieved with a solid seal compared with a sealant.